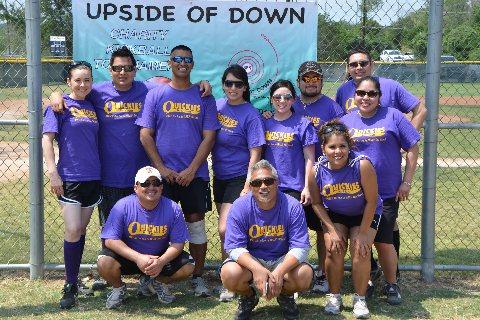 7th Annual Upside Of Down Charity Kickball Tournament
In Memory of Lawrence Ramirez
When: Sunday, May 31, 2015
Time: 10:30 am
Where: WAYA Fields on Cesar Chavez
It's that time of the year, and we're ready to start kickin' for the cause! The online registration is live, so please be sure to register ASAP because it's first come, first serve! We have 7 teams returning from last year and a special returning team from a few years ago, so only have 4 spots left! You can register here
This year's tournament will not only be another milestone for Upside Of Down, but it will be a tribute to Lawrence Ramirez. For those of you who have been a part of our tournaments from the beginning, you probably remember Lawrence, better known as "Law". Lawrence was captain of the Quickies, wearing the bright pink or purple shirts – they were always cutting up and laughing and he was usually the one right in the middle of all of it!
Lawrence is so very special to Upside Of Down for many reasons. He is the reason that Jeffrey and I pursued turning our website and desire to help others into a non-profit organization in order to make a bigger impact! He was very persistent in pushing us to complete ALL THAT PAPERWORK in order to apply for non-profit status, he connected us with others who had already taken this path to provide guidance & once we received our non-profit status, he said, "Now, what are you going to do?"….He answered his own question with "let's do a kickball tournament!" WHAT??? Who plays kickball? Well, as you know, many people play kickball and we've been going strong with our annual tournament since 2009!
Law passed away last year from a sudden heart attack and left behind the love of his life and his unborn daughter. We're going to celebrate Lawrence and his positive impact on Down syndrome this year!
Thanks to Lawrence, since 2009, the Upside Of Down Charity Kickball Tournament has raised close to $50,000. We have provided scholarships to numerous kids and adults with Down syndrome to attend summer camps, both locally and across the nation! We have donated thousands of dollars to DSRTF (Down Syndrome Research and Treatment Foundation) for research – we try to donate these funds on March 21st of each year in order for our donation to be matched 3:1 (one of the DSRTF board members typically does this match each year on World Down Syndrome Day)! We have also donated money to local Down syndrome outreach programs & to The University of Texas to sponsor employees in a research lab, who happen to have Down syndrome!
Our support to The University of Texas has allowed a young woman, Cory, with Down syndrome to work in a lab on Parkinson's research. Cory started out participating in a lab, lecture and social hour that was sponsored by DSACT (Down Syndrome Association of Central Texas). Her professor, Jon Pierce-Shimomura, quickly noticed her potential and aptitude for this type of research. We are honored to be able to support Cory and provide her with the opportunity to get paid for the great work she is doing at UT!!
Even though Lawrence was an Aggie, in his memory, we will commit to an annual donation to this program at UT and it will be called the Upside Of Down – Lawrence Ramirez donation. Lawrence was always eager to help others in their educational endeavors and was such a great inspiration to so many!
We hope that you'll join us in celebrating Lawrence's life and contributions to providing opportunities to people with Down syndrome this year! We'd love to be able to pay the salaries of more than one individual to work on critical research at UT!
We hope you can join us at this year's tourney, enjoy some fun competition, good food and great company!
If you can't make it, but would like to help support our cause, you can make an online donation now!