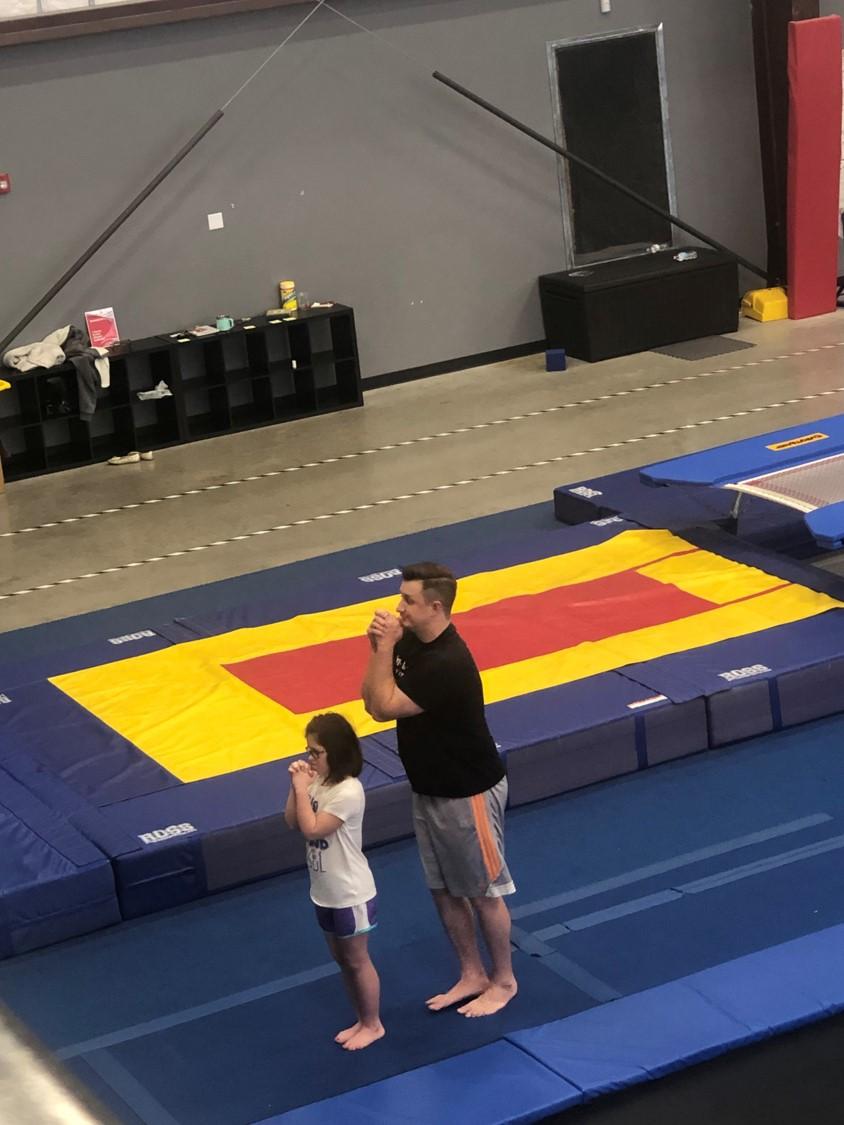 Life as a mom of a child with Down syndrome is awesome, and I wouldn't trade it for the world. Parenting is different for all kids, I get that – I have three that all require a different type of parenting and each have unique challenges. I've just been overwhelmed over the past few weeks over a decision that Presley has made in regards to middle school.
They were picking electives for 7th grade, and she was excited to make her choices such as student aid, yearbook staff, theatre and CHEER. Cheer is the one that has me feeling a bit anxious. We let Presley do her thing, take risks, etc., but with this selection, I worry. I'm not worried about her safety or anything like that. I worry about putting her out front and center and her being more of a target for bullies and/or 'mean girls'. People try to assure me by telling me 'we have great kids at this school' and things such as that, but the thing is, it just takes 1. She has such a lively and hopeful spirit, and I just couldn't stand to see that crushed.
I think a little bit of what is weighing on me is the vision I had when we picked her name. It was between Presley and Avery….I could visualize the name "Presley" on a megaphone, and thought it would be so cute. Afterall, I already had a son, so my assumption was that my daughter would cheer and Caden would play football. So, I guess I kinda asked for this. I just didn't visualize a daughter with Down syndrome in that cheer outfit standing in front of that cute "Presley" megaphone. Many parents in the Down syndrome call this a 'land mine' situation. Things are really good and Down syndrome is such a small part of our daily lives, but a few times a year I 'step on a landmine' and have this feeling of overwhelmingness and anxiety over a Down syndrome diagnosis. Don't get me wrong – we wouldn't change her one single bit, even if we could, but reality hits and certain things just remind you that what you envisioned when you were carrying this little nugget around in your belly for 9 months, just isn't what God placed in front of you. He did something even better – he blessed us with an amazing daughter who happens to have an extra chromosome who happens to bring the most balance to our lives!
I'm so proud that Presley has the confidence to join the cheer team and put herself out there, and as I reflect on this, I think I need to learn from her in this situation and be bold, be confident, and give my worries to God!
Philippians 4:6-7
"do not be anxious about anything, but in everything by prayer and supplication with thanksgiving let your requests be made known to God. And the peace of God, which surpasses all understanding , will guard your hears and your minds in Christy Jesus."
Presley attended her first cheer session with a trainer this weekend and ROCKED IT! I have no doubt that she will do awesome, after all, she loves making people smile and loves football, so I think she'll make an awesome cheerleader!!!!!